Copyright © 2009 - 2018 by Scouts on Stamps Society International, Inc. All rights reserved.
Additional information is always most welcome.
Email the author directly at

What's New:
02/05/18
In 1940s, 48FD-34 is added. (Listed but not pictured in Print Catalog.)
02/14/18
In Labels, S26-4 is added.
03/01/18
In 1950s, 53-18.2 is added.
03/24/18
In 1930s, 33-23.1 is added.
With the inclusion of the 1913 Norwalk, WI cover, Scout covers have now been recorded
& cataloged in the Levy Catalog, online & in print, every year from 1910 thru 1964 inclusive.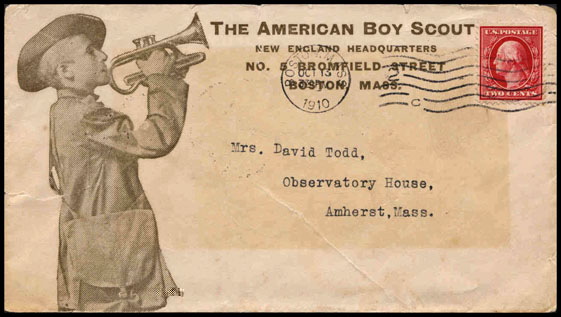 10-1
$250
The American Boy Scout
10/13/10
Boston, MA
Printed
Brown
Stationery from the American Boy Scout New England Headquarters
The American Boy Scout[s], or ABS, was founded and incorporated in May, 1910 by the publisher, William
Randolph Hearst, just 3 months after the publisher, William D. Boyce incorporated the Boy Scouts of America.
The ABS was a more military oriented group and they marched and drilled with rifles. After just
a few years the BSA absorbed most of the other Boy Scout groups and put the remainder out of business
when they legally took ownership of the name "Boy Scouts", and all variants thereof, in 1919. In the very
beginning however, all Scout groups were properly and correctly identified as Boy Scouts.
This is the earliest recorded [United States] Boy Scout organization cover & the only one we know of from 1910.
264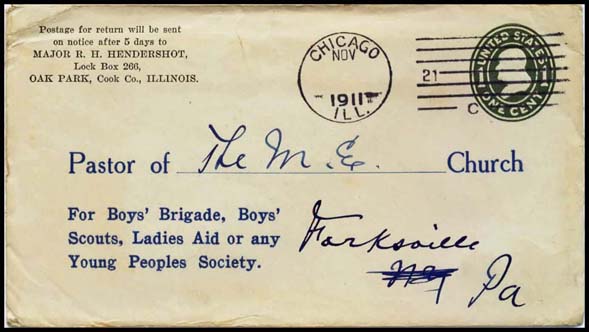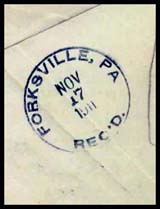 11-1
$175
Donation to Church
11/15/11
Chicago, IL
Printed
Blue
Backstamped "Forksville, PA NOV 17, 1911 REC'D"
Example is on a 1¢ Franklin 2nd class stamped envelope Scott #U400. The church name "M. E."
stands for "Methodist Episcopal" and was in common usage 100 years ago.
The sender, Major R.H. Hendershot, was a vaudeville performer and personality of the time.
He performed in churches as well as in halls & theatres. This cover would indicate that
he paid for the use of churches by making donations to church sponsored youth groups.
Ref: See SOSSI Journal, Jan/Feb, 2009, Page 5.
264

12-1
$150
Girl Scouts of America
04/25/12
Des Moines, IA
Printed
Brown
This severely cut cover front is the Only recorded example of the First Girl Scout Organization in the USA.
The fluer-de-lis GSA Badge is reconstructed from the image on the cover. The Trefoil, shown for comparison,
is from the frontis of the 1920 first edition, first printing of Scouting for Girls, the Girl Scouts, Inc. handbook.
The "Girl Scouts of America" was founded in Des Moines, Iowa in 1910 by
[Miss] Clara Adella Lisetor-Lane.
Two years later in 1912, Juliette Low founded the "Girl Guides of America". In 1913 Low changed the
name of her organization to the "Girl Scouts" and in 1915 she incorporated the Girl Scouts as
"Girl Scouts, Inc." with the name "Girl Scouts" remaining in use. In 1947, Girl Scouts, Inc.
changed their name to "Girl Scouts of the United States of America" [aka "Girl Scouts of the U.S.A."
aka "Girl Scouts of the USA" aka "GSUSA"] which it's been now for the past 70 years.
Regular misuse not withstanding, at no time in its history, from 1912 to date, has "GSUSA"
ever been named "Girl Scouts of America".
264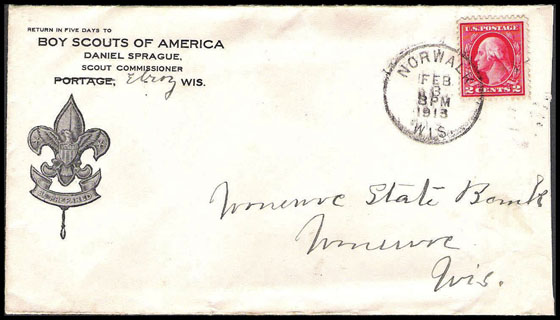 13-1
$85
Daniel Sprague Scout Commissioner, Elroy WI
02/03/13
Norwalk, WI
Printed
Black
Stationery from Elroy Headquarters.
Wisconsin did not organize Councils until 1915.
The earliest recorded cover picturing a Scout Badge.
See enclosed letter in L. Letters & Mailings.
264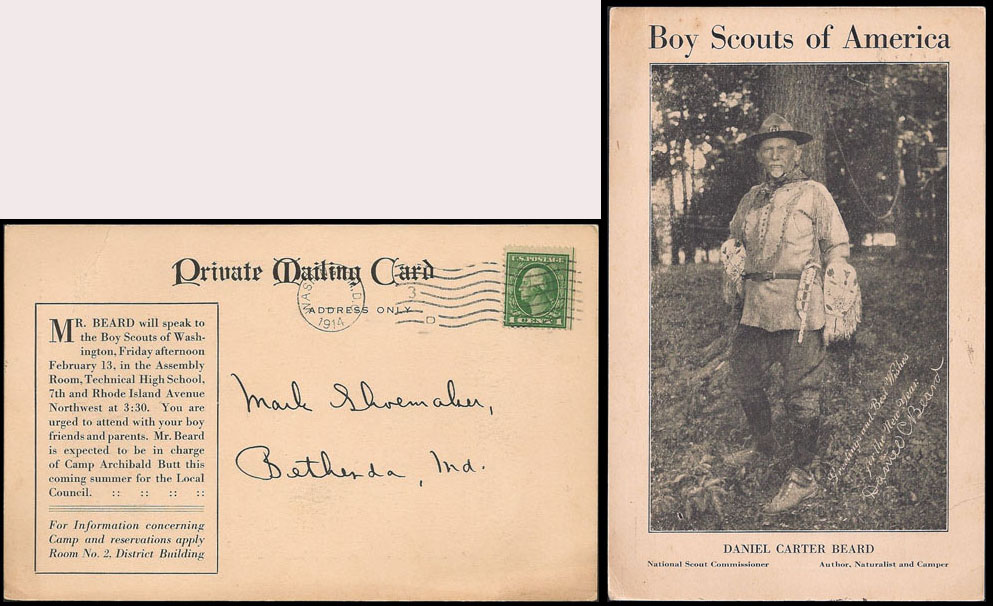 14-0.1 front back
$150
Mr. Beard Will Speak to the Boy Scouts
2/14
Washington, DC
Printed
Blue
4½"x7" postcard
264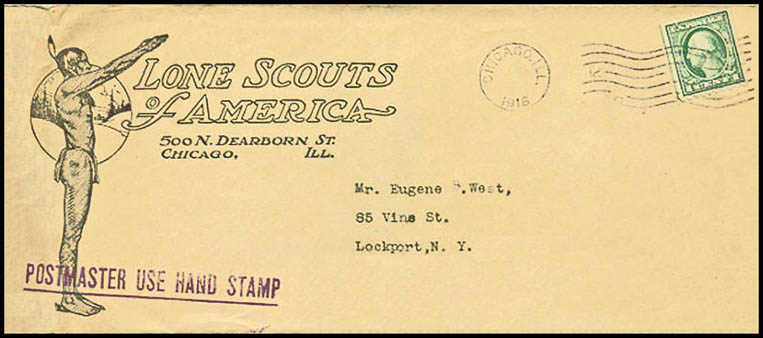 16-1
$80
Lone Scouts of America
1916
Chicago, IL
Printed
Black
Stationery from the LSA National Headquarters
#9 envelope
264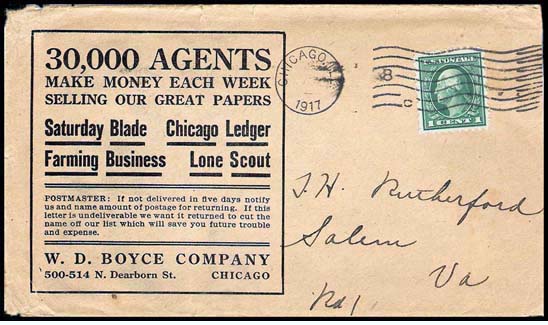 17-2 17-2 back
$80
W. D. Boyce - Lone Scout
1917
Chicago, IL
Printed
Black
W. D. Boyce Co. advertising cover promoting their four largest papers including the Lone Scout,
the LSA national publication.
264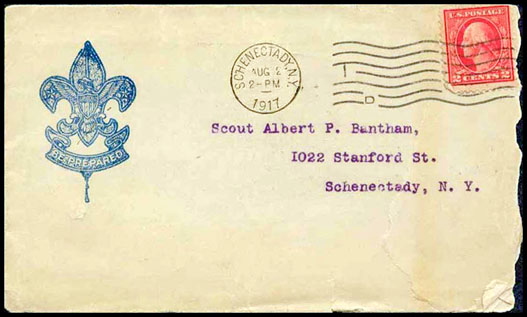 17-3
$70
First Class Badge on Troop 4, Schenectady, NY stationery
08/02/17
Schenectady, NY
Printed
Blue
Troop 4, Schenectady, NY
See contents in "US Scout Covers", Letters & mailing section.
264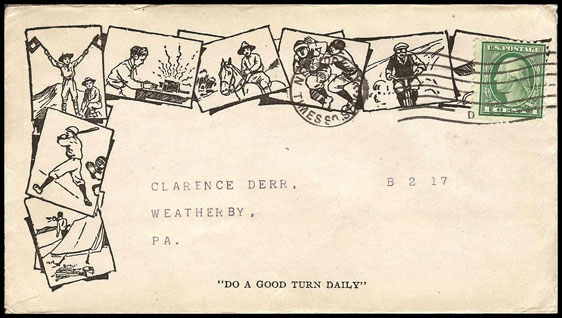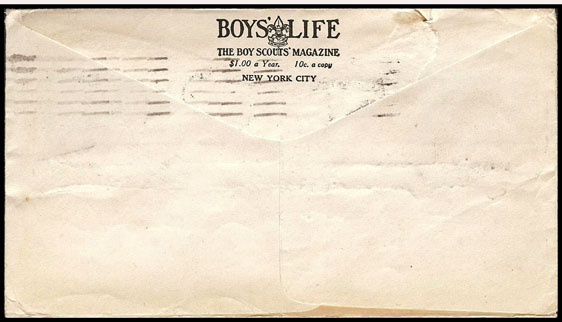 17-4
$60
Boys' Life Activities
1917
New York, NY
Printed
Black
National Council, BSA
265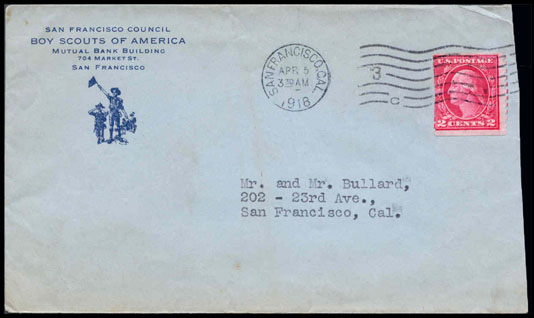 18-0.1
$60
San Francisco Council Boy Scouts of America San Francisco
04/05/18
San Francisco, CA
Printed
Blue
San Francisco Council stationery
265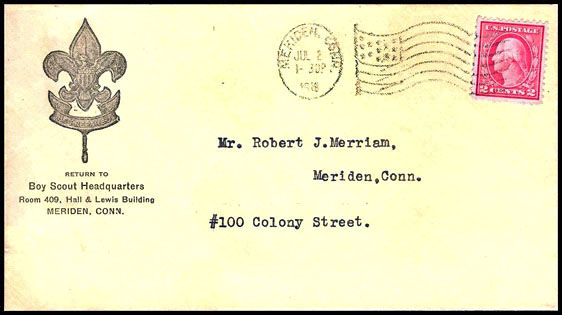 18-2
$60
Boy Scout Headquarters - Meriden, Conn.
07/02/18
Meriden, CT
Printed
Brown
Boy Scout Headquarters stationery
265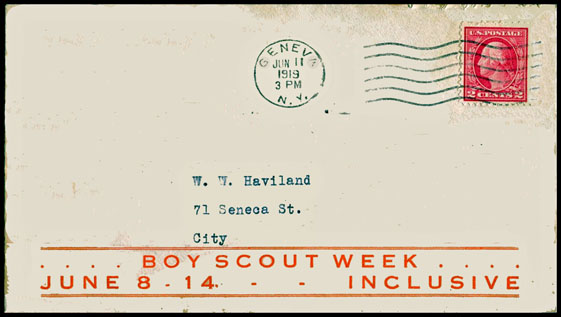 19-0.1
$75
First Boy Scout Week - 1919
06/11/19
Geneva, NY
Printed
Orange
265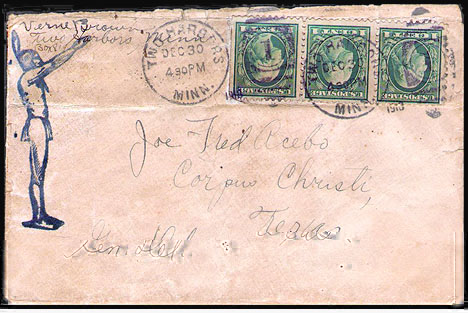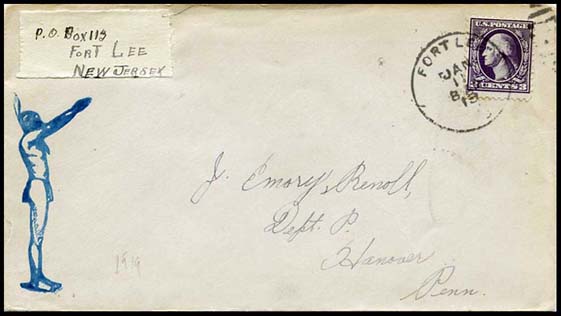 19-1.1a
$70
Lone Scouts of America 2½" Logo
12/30/18 example
Two Harbors, MI
Rubber stamped
Blue
01/11/19 example
Fort Lee, NJ
Rubber stamped
Blue
This rubber stamp logo was available from the LSA and the Scouts were encouraged to use it.
Lone Scouts did not have troop meetings and virtually all communication was by mail.
265
Change:
Page 7 of the Catalog Introduction under "Not Included". Change "Personal stationery" to
"personal stationery except for Lone Scouts"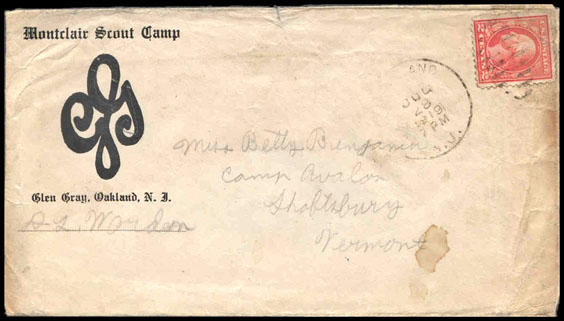 19-1.2
$60
Camp Glen Gray Stationery
07/28/19
Oakland, NJ
Printed
Black
The fluer-de-lis image is the Camp's initials, "G G", written in script.
Camp Glen Gray opened in 1917, closed in 2001, and this is the earliest known cover.
Actually, there was no Scout Camp named Montclair. This was where the Scouts from Montclair camped.
265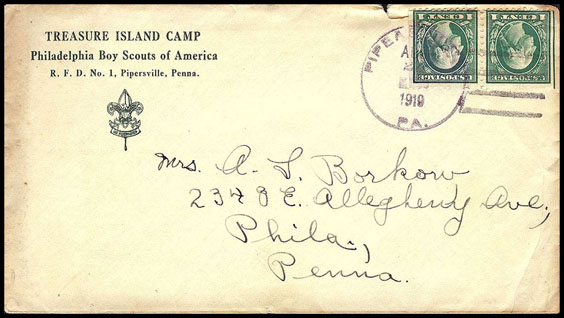 19-1.3
$60
Treasure Island Camp Stationery
08/28/19
Pipersville, PA
Printed
Green
Pipersville, PA was the Camp's postal address until 1931 at which time the Camp got its own Post Office.
265